Happy 2019! New year always comes with new resolutions and the inspiration to make the most of what the year has to offer.
Whether you're thinking of moving to Kelowna or relocating within the city, January is a great time to look into buying. And now that the 2019 BC Assessment is available online it's easy to check what your potential home is worth and how your desired community stands among the other neighbourhoods. After all, you want to make sure you not only buy the home you love, but also make a smart investment.
If your 2019 resolution is to make a smart real estate investment, there are a few things to consider.
Buying in Kelowna in Winter
Perhaps you had hoped to buy a house before the end of December but found the low inventory didn't offer what you were looking for.
Perhaps you found your perfect listing but another buyer had a higher offer.
Or perhaps your desire to buy was affected by last year's government policies: speculation tax, higher interest rates and taxes, and the mortgage stress test.
Real estate is a dynamic market and our experienced realtors have learned to play within the changing rules and regulations. This means, that we can give buyers the best advice on how to pursue their real estate dreams and how to navigate the policies.
Even though residential real estate in Kelowna is slower in January, compared to spring and summer, with experts by your side, any season is the right season to invest in real estate.
NOW Is Always A Good Time To Start Looking
In the winter months, inventory tends to be lower, but Kelowna is a growing city and real estate never sleeps.
Back in November we talked about "6 Tips On Why Sell Your Home In Winter". While these tips were focused on the seller, there are some points that also benefit the buyers.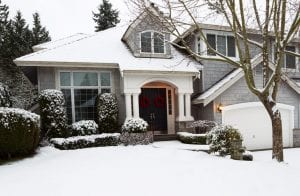 Colder weather means the seller will have to pay attention to factors like energy efficiency, upgrades, and maintenance. If any issues arise, such as drafty windows, it's in the seller's best interest to get these fixed, which means less future expenses for the buyer.
Less inventory also means less competition, so if you're looking to avoid a multiple offer situation and the asking price going up, this is most likely to happen in the winter.
There are a couple additional benefits.
First, prices may go down for houses that have sat on the market all winter. With low inventory, if you've had your eye on a property that has been listed for a while, you might be in luck.
Second, January is usually the busiest months to get mortgage pre-approvals, so while buyers are securing their financing, most sellers are getting ready to hit the market. This also means the buyer has time to scope out their perfect neighbourhood.
What's Next?
If you have always wanted to live in Kelowna or are ready to move to a new neighbourhood in the city, we are here to help you.
Whether you are not sure if now is the right time to buy, or how recent government policies might affect your ability to buy, our Kelowna Life team is one phone call or message away from getting all the answers you need to make an informed decision.
You can live here too. Check out Kelowna Life to see how.