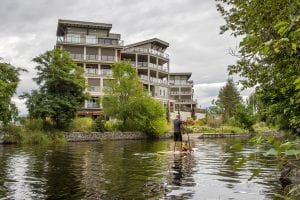 The Okanagan Valley is renowned for its laid-back lifestyle. With access to a wide variety of activities no matter the time of year, Kelowna is a great city to raise a family. Whether you enjoy water sports in the summer or getting on the slopes in the winter, there's never a dull moment. If you were like me when I moved here, I didn't know where in Kelowna to set up. Where was the best place to raise my family? I might be a bit biased, but it's hard to go wrong no matter where you move as this city is filled with great neighbourhoods. However, there are hidden gems throughout the city. One of which is a community called Water's Edge North. A small neighbourhood close to Okanagan Lake, Water's Edge North is a beautiful and scenic location in the Lower Mission area of Kelowna.
Located just steps from the Okanagan Lake, MKS Resources has worked tirelessly to create a unique blend of architecture, and inspiring design with a great location that has fabulous views, serene surroundings, and fantastic amenities. All that hard work has come together to create the Water's Edge North community. Just a short distance from restaurants, destination resorts such as  Eldorado Hotel & Manteo Resorts. It is also close to water parks, orchards and Mission Creek Greenway. This neighbourhood has everything you could ever want in a community.
Not only is the Water's Edge a beautiful community with a great location, but it's also a community that has become stronger in the past year. In July of 2017, there was a massive fire in the neighbourhood that forced 176 homes to evacuate. It was a tragedy that devastated many families, or at least that's what you would expect. Instead, the community used the fire as a tool to bring them closer together. They rallied together to rebuild their homes and do everything they could to help each other in a difficult time.
Tragedy is something no one ever wants to deal with. However, how one deals with tragedy shows the character of those involved. It can be easy to fall apart when something terrible happens, but when you get back up after a disaster, it shows true strength of character. That's what the Water's Edge did after a fire devastated their community, they got up and rebuilt. Now as the community continues to rebuild, the people are stronger than ever. For those reasons alone it is a great community to set up your family. With a strong, inclusive community, and plenty of things to do throughout the year, who wouldn't want to live in the Water's Edge? You can live here too. Check out Kelowna Life to learn how.