Upper Mission
Upper Mission is a family-oriented community for all those who don't want to live in the hustle and bustle of the city but have all the perks of living in a modern yet small community. Living here is a dream home come true, and you will feel relaxed, safe and secure with every perk you need nearby.
Upper Mission is located in the hills of Southern Kelowna, which boasts stunning lake and city views. It is the most popular residential area in Kelowna, and for good reason. It hosts a wide variety of outdoor activities, including hiking, rock climbing, biking, wineries and orchards.
Wine Lovers
The community sits within walking distance of some fantastic wineries, including Summerhill Pyramid Winery, CedarCreek Estate Winery and St Hubertus & Oak Bay Estate Winery, three award-winning vineyards which produce some of Canada's finest wines.
Outdoor Living
The best part about living in this neighbourhood is that there are plenty of outdoor activities nearby, including hiking and biking trails in Lebanon Park, Pkam Qax Trail and Myra-Bellevue Provincial Park and Protected Area, rock climbing at Mountainside Park, snowshoeing in Kuiper's Peak Mountain Park, golfing at Mission Creek Golf club, Michaelbrook Golf, and Gallagher's Canyon Golf & Country Club, swimming and fishing on Okanagan Lake, boat launch and dog beach at Cedar Creek Park, as well as shopping and dining out in downtown Kelowna.
New Upper Mission Listings
601 PERIDOT PLACE, KELOWNA, BC V1W 5E7
Two-storey, 5 bedroom, 6 bathroom, with open concept main floor located in a quiet cul-de-sac of Upper Mission Kelowna. High-end finishings of custom stonework, wine cellar, spa comparable ensuite, salt water pool, oversized triple car garage, and tray ceilings throughout.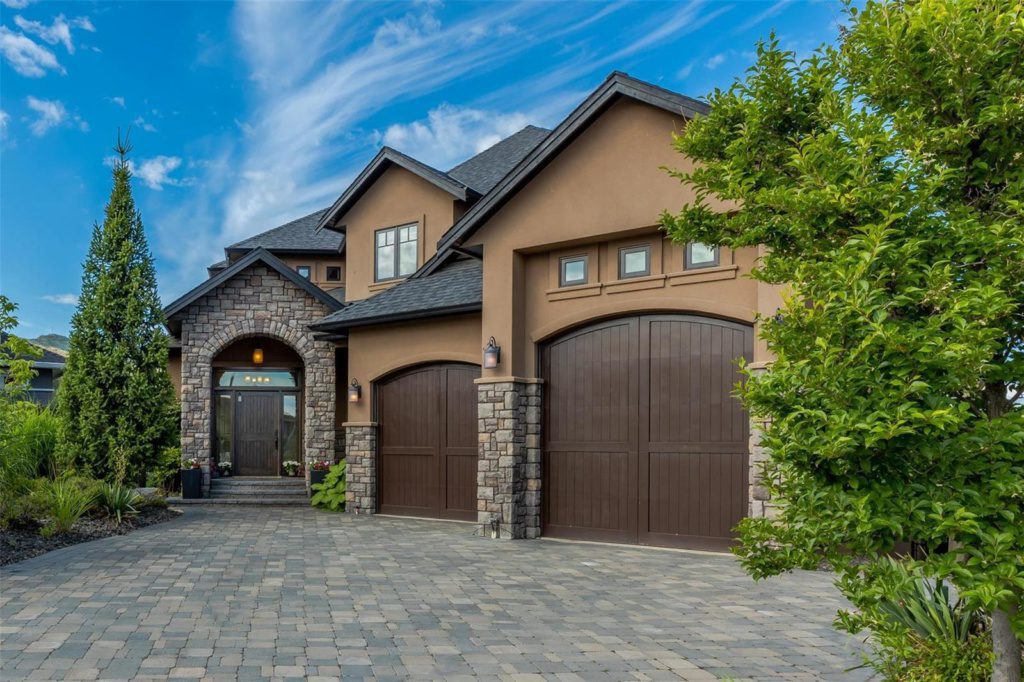 622 PERIDOT PLACE, KELOWNA, BC V1W 5E7
Walk-out rancher, 4 bedroom, 4 bathroom with open concept main floor located in a quiet cul-de-sac of Upper Mission Kelowna. Luxury finishes throughout, including granite countertops, solid interior wood doors, floor-to-ceiling rock fireplace, heated bathroom floors and on-demand hot water.
If you're looking to own a luxury home in the city, this community is perfect for you. The biodiversity and breathtaking views will stimulate your senses and leave you energized for the day ahead. Enjoy the peace and quiet that Upper Mission has to offer, or take advantage of all the nearby urban areas have to offer. With everything from shopping to entertainment to restaurants at your fingertips, owning a home in Upper Mission couldn't be easier. Make your real estate dreams come true by buying a luxury property here today!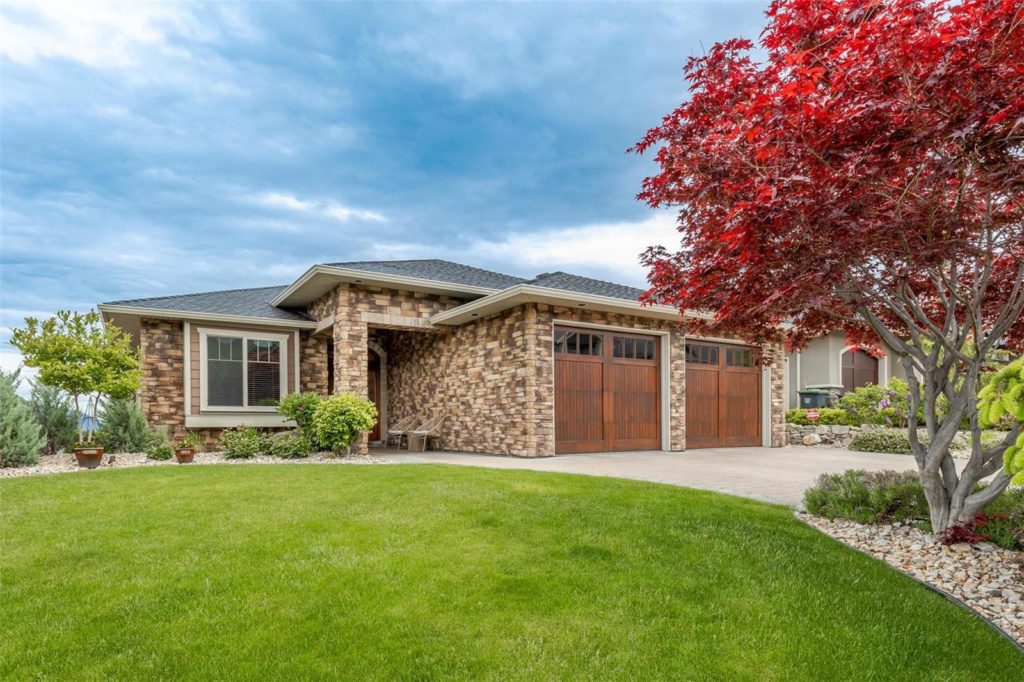 The Village of Kettle Valley
Overlooking the mountains, forests, and lakes of British Columbia (which you could not ask for more), Kettle Valley Kelowna offers a balanced lifestyle. From a mild climate to small-town comforts, Kettle Valley Kelowna, BC, boasts luxurious custom homes, modern retail shopping, and conveniently located schools. If your family is looking for a place to settle down, look no further than the Kettle Valley Kelowna area in Southern BC.
Small-town charm
The community has several events throughout the year, including community garage sales, artisan markets, holiday events and an outdoor movie night in the beautiful park.
The residents of Kettle Valley are always willing to help their fellow neighbours. The Kettle Valley Facebook page is a great place to share photos, ask questions, connect with other residents, and a fantastic way to stay up-to-date on local happenings!
Perfectly designed infrastructure
Kettle Valley is a master-planned community located in the heart of Kelowna, British Columbia. Kettle Valley is designed to be a pedestrian-friendly village with easy access to amenities and services, as well as flawlessly planned spacing of roadways.
Village Centre features pedestrian-friendly streetscapes connecting people to the area's shops and restaurants; sporting a spa, gym, dentist, chiropractor, restaurants, markets, and all with more than ample parking for residents and visitors, making it easy for both residents and visitors to enjoy all that Kettle Valley has to offer.
Kettle Valley Kelowna has additional amenities that make it an ideal place to call home, including a water park, elementary and secondary schools, as well as tennis courts and playgrounds for kids of all ages!
Nature
The view from many homes in the neighbourhood overlooks Okanagan Lake giving residents a breathtaking view of the lake daily. Residents also have access to private beaches along Okanagan Lake and enjoy views of the surrounding mountains from their homes.
Featuring high-quality architecture and street design that reflects its natural setting – including green spaces, water features, walking paths and bike lanes, the community is connected to hiking trails, mountain bike trails and ski hills by an extensive network of pathways.
Kettle Valley offers residents the best of both worlds, with easy access to Okanagan Lake and a walkable lifestyle.
New Kettle Valley Listing
415 HAWK HILL DRIVE, KELOWNA, BC V1W 0B1
Two-storey custom family home, 7 bedroom, 6 bathroom, with 1000+ square foot legal suite 0.33-acre lot in Kettle Valley Kelowna. Enjoy vaulted ceilings, butler pantry, primary bedroom entrance access to the patio and hot tub and oversized backyard with salt water pool.
Kettle Valley is among the most prestigious communities in Canada and offers top-tier luxury real estate. The community is where you can live, play and grow with your family. For anyone looking to invest in property in the Kettle Valley area, the time is right to start looking at houses and land available for sale.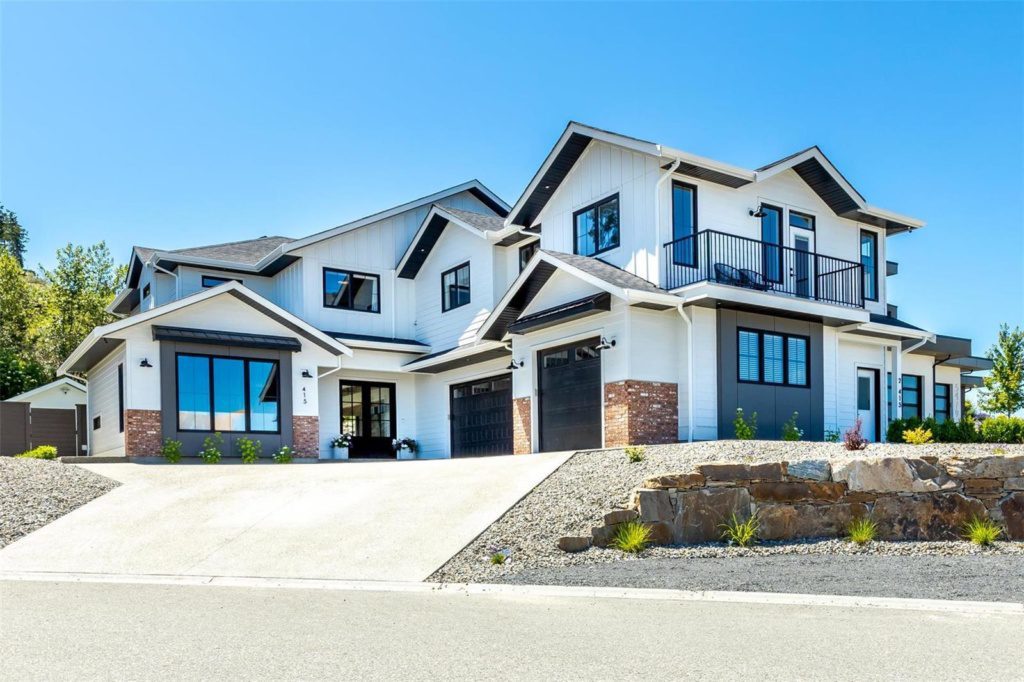 Kelowna Life Real Estate Group and our real estate agents can help you find a home that fits your lifestyle, needs, and budget. We're happy to work with you to get the home of your dreams—and we know those dreams include a fantastic view, spacious closets, pools, or other luxuries. Contact us today and find out more about our services!