In 1945 when Kelowna was still just a small town, there wasn't much of a boating community. A surprising fact considering Kelowna is home to the beautiful Okanagan Lake. With nothing in place, a group of boat owners began to develop the Kelowna Yacht Club. It started small, with the founders initially focusing on building launching facilities and a clubhouse. However, this only provided the base for the club, and since then has blossomed into the beautiful community that it is today.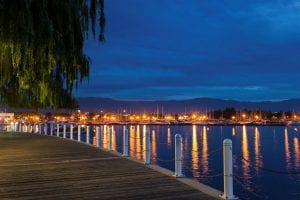 When you think of a yacht club, you may form a quick opinion or expectations. However, the Kelowna Yacht Club is different from your average boating club. It's a non-profit organization with a heavy focus on community. Thousands of children and young adults over the years have learned to sail through lessons that are open to the public. Accessibility to these lessons is as inclusive as possible in order to give everyone the opportunity to learn. Each year roughly 30 adults complete the learn-to-sail course where boat owners donate their boats and time to help develop the next generation of boaters.
In addition to teaching youth about the world of boating, the Kelowna Yacht Club prides itself on giving opportunities to people who might not get them elsewhere. They host the Blind Fishing Derby which offers 30 people with blindness or sight impairment the opportunity to fish with the assistance of crew members. Additionally, they host the Boat for Hope event which gives kids with physical and developmental challenges a fun day on the water.
It was the emphasis on family and community that originally drew me to the Kelowna Yacht Club. Not just the fast boats – I know hard to believe. The core values that always guide me in what I do both personally and professionally are family and community. It has served me well over the years in building my business and is the foundation upon which I view my relationships and friendships with my clients.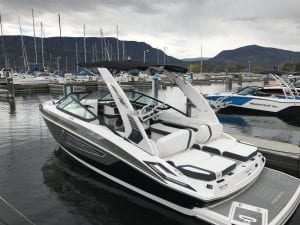 While I may not get out on the water as much as I would like, I joined the Kelowna Yacht Club for a reason. In addition to being part of a supporting community, I can't think of a better way to spend time with family and friends than being on the water surrounded by the beauty and splendor that is the Okanagan. You can live here too. Check out Kelowna Life to learn how.