World Population Day is a day that takes place annually to raise awareness of global population issues. Established in 1989, it was inspired by the massive public interest in Five Billion Day, July 11th, 1987. In celebration of World Population Day, let's take a look at Kelowna and how it has grown over the years as well as how it's expected to grow in the future.
Kelowna was first established in 1859 by Father Charles Pandosy. Setting up just one school and church, it was a very small community for the next half-century. In the 1901 census, Kelowna had a population of just 261. However, over the next 10 years the city began to see growth and by 1911 had grown to a respectable size of 1661. Ever since that point, Kelowna has been one of the fastest growing cities in all of Canada. By 1940 the population had grown to 5000 and then in less than 20 years, the population hit 10,000.
By 1970, Kelowna saw the biggest population spike in Kelowna's history. The population went from 19,000 to 51,000 in 1976. This significant increase firmly planted Kelowna on the map. It was during this time it was discovered that Kelowna had uniquely fertile soil. This discovery lead to the production of amazing wines (lucky for me) and fruit which in turn contributed to the population spike in the 70s. Contributing to Kelowna being a more desirable location to live were the addition of two post-secondary institutions – Okanagan College and University of British Columbia Okanagan Campus. Since then, Kelowna has steadily been increasing to the point where it now has a population of 127,000.
I am proud to say that I live in the 3rd largest city in British Columbia (22nd largest city in Canada). Growing faster on average than the rest of Canada, Kelowna is expected to continue to move up the Canadian population list. With Kelowna recently being ranked as the number one city to start and grow a business in Canada by the Canadian Federation of Independent Business, this growth can only be expected to continue. Over the next 20 years the growth of Kelowna has been projected by BC Statistics to increase by roughly 50,000 residents.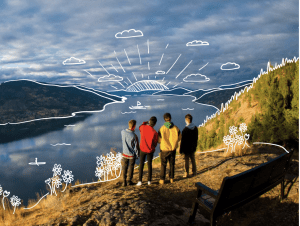 To anticipate this growth, the City of Kelowna launched an initiative called Imagine Kelowna. Imagine Kelowna – a vision for the community, created by the community will help guide the community and the City on planning priorities of future projects. The main focuses of Imagine Kelowna will be to build healthy neighborhoods that support people from all walks of life, embrace a more diverse transportation options, grow more vibrant urban centres.
Kelowna is a thriving city and an incredible place to call home. I look forward to a future where we build a community that is inclusive, sustainable, welcoming of lifestyles and economic opportunities for not only my family but for all. You can live here too. Check out Kelowna Life to learn how.