Christmas season is upon us and Kelowna neighbourhoods and spirits are getting brighter as the holidays approach.
The best part if you're in Kelowna during the season is enjoying all the local events and activities. Meeting Santa, getting crafty, and marveling at the many talented Okanagan artisans are but a few things that make this time of the year so wonderful.
The holiday season is a special time for my family and me, and with this in mind, I thought of sharing some of the fun things happening around Kelowna.
Beautiful Christmas Light Displays
What better way to spend a dark winter evening than walking or driving through a brightly lit neighbourhood. It's a great opportunity to reflect on a busy day and enjoy the time with family and friends.
While you'll surely find a stunning light display in any Kelowna neighbourhood, there are some neighbourhoods that take Christmas lights very seriously and encourage its residents to showcase their creativity.
The Kettle Valley Neighbourhood Association held its first annual Light Up contest on December 9th. The event was created to connect neighbours and show that Kettle Valley is a great place to call home. If you've always wanted to roam the streets in Upper Mission, the light displays is a great opportunity to explore the community and enjoy the creative displays.
Across town, Wilden is another community that has made Christmas light display into an annual tradition and contest. While only Wilden residents can nominate a house, everyone can vote on their favourite light display. Whether you take a look for yourself or wait until December 15th when photos of the nominated houses will be shared on Wilden's Facebook page, this is a great opportunity for the entire family to participate in a beautiful event.
Breakfast With Santa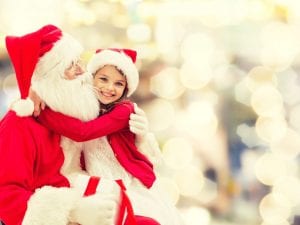 Sitting in Santa's lap for a photo is great, but have you ever had breakfast with Mr. Kringle?
On Saturday, December 15th, Santa will join families at Hotel Eldorado for a breakfast buffet, photos, and other fun Christmas activities. In a true Christmas spirit, this event also supports the Central Okanagan Food Bank by encouraging participants to bring an unwrapped toy or a non-perishable food item to the event.
Get Crafty and Enjoy Some Wine
Holiday season can get busy with decorating, baking, organizing, and so many other things.
If you didn't get a chance to purchase a wreath at one of the Christmas markets earlier in December, or make one at home, this is the perfect hands-on event to add a special touch to your home.
The ticket to the event includes a glass of wine, so it's a great opportunity for busy parents to have some relaxing creative time while the little ones are having fun at home with grandparents.
Holiday Fun for the Entire Family
This holiday season, the Arion Therapeutic Farm is offering a variety of events from December 22nd to January 8th.
The entire family can enjoy guided tours, an outdoor playspace, mini horse leading, donkey grooming, crafts, wagon rides, face painting, holiday baking and lots more. Santa is also stopping by for story time on the 22nd and 23rd, in case you missed him at Hotel Eldorado.
"Christmas isn't just a day, it's a frame of mind"
This quote by Valentine Davies in his story "Miracle on 34th Street" captures what the holiday spirit is about: It's what we make of it.
It's an opportunity to spend time with family, and also to support local businesses and organizations. It's a time to recognize the importance of community engagement and the joy we can find in something as simple and creative as a light display.
You can live here too and see for yourself how beautiful Kelowna is during the winter season! Check out Kelowna Life to learn how.