Looking for luxury waterfront real estate in the Okanagan? The first step is to hire real estate agents who have experience selling waterfront real estate, as it can be a tricky and complex transaction.
There are many important details when buying luxury waterfront property in the Okanagan. Rules and regulations are constantly changing with regards to waterfront properties, and as a client, you need to know what questions to ask. However, having a professional real estate agent on board helps you know which questions to ask and when to ask them.
Before diving into this large investment, the following factors should be considered and carefully examined. Some of these important factors could drastically change the use of the property or even the value. As waterfront specialists, Rob and Jason can help protect your investment and bring some clarity when buying a luxury waterfront property in Kelowna.

Things to Consider When Purchasing Luxury Waterfront Real Estate in the Okanagan
Waterfront: When you are buying luxury waterfront real estate in the Okanagan, you are buying the land, but you do not own the waterfront. There are very few properties in the Okanagan where the homeowner owns the foreshore right. This means you do not own the beach out in front of your home.
Docks
If that waterfront home has a dock, the dock must have specific permission or general permission. You must ensure it is compliant with the rules and regulations set out by the ministry. Different areas of Lake Okanagan have different requirements for dock construction. This is based on the salmon spawning, depth of the water, protection of the foreshore and indigenous plants to name a few. You will want to make sure your dock is a legal dock before your purchase.
Building
When buying luxury waterfront real estate in Kelowna and tearing down the current home, there are new setbacks that are now in place for new home construction on the waterfront. Years ago, structures were allowed to be closer to the water but new guidelines are in place once that old cabin or beach house is taken down.
When looking into buying a waterfront property in Kelowna, it is important to hire a real estate agent who is experienced and familiar with property regulations.
Rob and Jason of Kelowna Life and Macdonald Realty are two of the top luxury real estate agents for waterfront sales in the Okanagan. They have been selling waterfront property for years and their extensive knowledge gives their clients the advantage when buying a waterfront property in the Okanagan.
Featured Listing: 12-3756 Lakeshore Road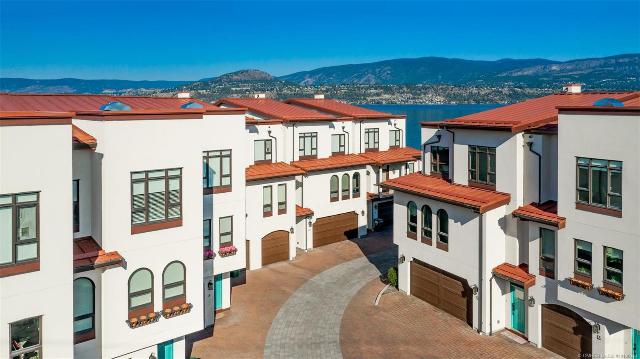 Presented by Rob Nelson of Kelowna Life Real Estate Group & Macdonald Realty Kelowna. Luxury Lakefront Living at its best! Enjoy the Okanagan Lifestyle from one of Kelownas most sought after locations right on the lake with pool and hot tub. Nothing has been overlooked in this home featuring custom finishings throughout with lakeviews from every corner. Enjoy the inside and outdoor lifestyle with beautiful nano doors right onto your private oversized patio featuring outdoor kitchen and hottub. Room for all your guests with 3 oversized bedrooms and 3 full washrooms. Large entertaining area featuring chefs kitchen with high end appliances. Beautiful 2 car garage with loads of extra storage and finished workshop area. Enjoy the resort lifestyle with your own boat slip with upgraded lift and access to all the amenities of Manteo Resort featuring an indoor pool, gym, clubhouse, games room, second outdoor pool with spray park and water slides, playground and tennis courts.
Click here to get more details or request a showing
Need help purchasing the Okanagan waterfront home of your dreams? Contact us today!