Located in the heart of Kelowna, the Bernard downtown area offers beautiful views of Kelowna and Okanagan Lake. Living in the downtown core means convenient access to the city's best amenities, shopping centers, restaurants and more. The area has a mix of townhomes, single-family homes luxury, and condos in Kelowna. If you're looking for a home or luxury condo in Kelowna, keep reading!
Experience Downtown Kelowna on Bernard Avenue
If you're thinking of moving to downtown Kelowna, you can't get closer to the heart of the city than Bernard Avenue. Living on Bernard means access to the best the city offers right outside your doorstep. You can experience the artistic culture of Kelowna by checking out local art galleries, the Kelowna Actors Studio and performing art centers; all just a short distance away from your home on Bernard.  
World-class restaurants and other amenities are located down Bernard. Check out restaurants, nightlife and local wineries offering varietals from the Okanagan Valley. Great hiking and outdoor recreation like City Park Beach and Knox Mountain are all close by.  
If you're looking for the convenience of city life, downtown Kelowna may be the next place you should call home!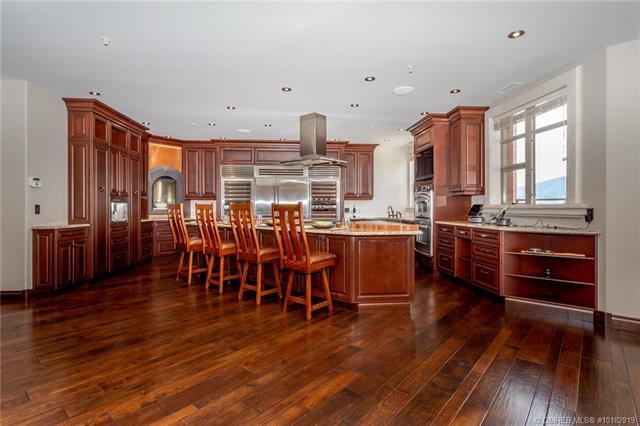 Luxury Condos in Kelowna
If you're looking to experience all downtown Kelowna has to offer in luxury, there are many luxury Condos in Kelowna that offer luxury living in downtown. One of our current listings, #1701, 1160 Bernard Avenue boasts 4,000 square feet and sweeping views of the city's lights and Okanagan Lake.  
Located in the Centuria Urban Village, this rare opportunity is located on the 17th floor, meaning sweeping views of the city's lights, Okanagan Lake and more. Centuria Urban Village offers access to amenities like a hot tub, gym, sauna and more. This particular unit offers 4 parking spots to keep all your vehicles and easy access to the building's indoor car wash and vacuum. 
Hosting friends and family is a breeze in luxury condos in Kelowna like this one. Inside the unit, you'll find an oversized chef's kitchen, making prepping meals and cooking an event you look forward to! The large, spacious dining room, living room, and entertainment room give plenty of options to kick back and relax or host friends and family.  
Imagine opening up one of the region's finest wines to enjoy with guests on one of your three patios overlooking the beautiful valley. Dinner parties, relaxed evenings and more are yours to enjoy in a luxury Kelowna condo like this one!  
If you're interested in finding out more about this luxury condo in Kelowna, don't hesitate to contact the team at Kelowna Life to book a private showing. 
Kelowna Realtors: Helping You Find Your Dream Home
Many of our clients who choose to move to Kelowna from one of Canada's larger cities like Vancouver or Calgary are amazed at the real estate market in the Okanagan. Luxury living is more affordable, traffic is more manageable and both these qualities combined with the scenic views of Kelowna make the Okanagan the ideal place to live. 
Our team is here to help you find the home you've been looking for. Whether you're purchasing, selling or just looking for more information on what Kelowna has to offer, give our team a call! Our team is experienced in the Kelowna market and can help you find the right home for your specific needs. We'd be happy to take the time to understand what you're looking for and help you through every step of the process to find your new property.