Living in Okanagan's Wine Country definitely has its perks. Residents of Kelowna can essentially throw a rock and it'll hit an award winning winery that serves up delicious vino. And don't expect to find the same notes in your glass when vineyard hopping. The beauty of these unique wineries is that each selection found in a local tasting room has their own unique taste. Wine tasting is a very personal experience and it's also tons of fun so when you're looking for the best wineries in Kelowna, you'll find them in close proximity! Here's 5 amazing vineyards in Central Okanagan you have to try this fall:
The Hatch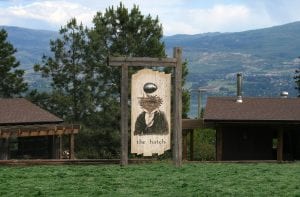 A young local winery, The Hatch has quickly become a vineyard favorite for many. Along with a delicious line-up of unique blends of memorable reds and whites, this eccentric location is also an interesting art hub. Everything from the labels on the bottles to the items found in the winery gift-shop have a creative stamp by Artist, Paul Morstad. The Hatch is a winery unlike any other and when you visit, you certainly won't be disappointed.
Must Try: 2014 The Hatch "Hobo Series" Cabernet Franc
The Vibrant Vine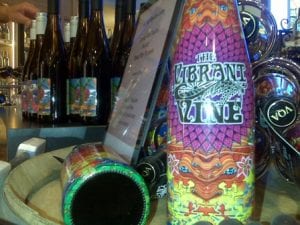 A colourful 3D experience you won't find at any other Okanagan winery, The Vibrant Vine is a magnificent vino experience. When you walk in, you'll be directed to put on a pair of 3D glasses as the artwork in the wine shop explodes with 3rd dimension colours and designs. Complete with an amazing flight selection, the Vibrant Vine is filled with passionate wine connoisseurs who will be happy to explain why each individual blend is so special. Make sure to ask them the story behind "WOOPS".
Must Try: Gewurztraminer 2015
Tantalus Vineyards
A gorgeous sipping experience, Tantalus Vineyards provides tremendous views of Okanagan Lake and more importantly, delightful and authentic wines that will leave you satisfied and happy. The team at Tantalus are personable, helpful and proud to be pouring at the oldest producing vineyard in the province.
Must Try: Old Vines Riesling (tastes like sour candy!)
The View Vineyard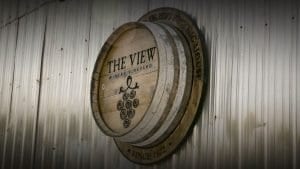 The View is a special winery that provides visitors with a romantic tasting and seductive story. Born from a carefree and loving moment by the owners, The View is fabulous and fun (hence the red heel logo). Hospitable, friendly and passionate, this vineyard is home to delicious wines, ciders and sparkling wines.
Must Try: Bling Pink Sparkling (6 pack-cans)
Camelot Vineyards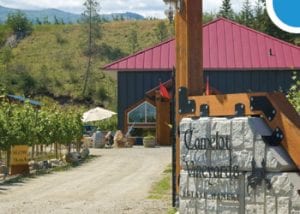 An award-winning winery in Kelowna, you can probably guess the theme of Camelot Vineyards as medieval history is unmistakably present in the décor. Here, you'll find plenty of photo-taking opportunities with a suit of armor, swords, complete with a replica of the round table which of course, is where you'll sip your exquisite vino. Be sure to stop by and check out the medieval decorations before or after your flight of unique and delicious blends. Keep your eyes open for the on-site dog which adds an extra bit of charm to an already fantastic winery.
Must Try: 2015 White Knight
People from all over the world visit the wineries in the Okanagan Valley and some of the vineyards prove to be the best in the world. You really can't go wrong with any tasting room in the area as each brings its own unique charm along with an endless list of accolades to go around for all. Unfortunately, we only have so much time in a day to list off our favorites, so if you're looking for Okanagan wineries, be sure to visit the above 5 on your local vineyard tour. Whether it's the local fruit and vegetables or seasonal patios, we love telling prospective buyers what our favorite parts of the city are and one of the best aspects is always having access to fabulous vino at any time of the year. To find out more about why we love this city so much, get in touch. We'd be happy to explain the reasons why you should purchase property in Kelowna.