Everyone who resides here can easily agree that one of the best parts about living in Kelowna is the easy access to endless fruit and vegetable markets. From spring to fall, the seasonal fruits & vegetables have locals drooling over all of the mouth-watering freshness. There's something positive to be said about every local market in Kelowna and each one brings their own unique heart & charm to their customers. However, if we listed all of our favorites, you'd be reading for the rest of the year! So we've gathered together 5 of our favorites for you to check out!
Paynter's Fruit Market
Nestled in a quiet rural corner just off the highway, Paynter's Fruit Market is filled with seasonal fruits & vegetables in a charming environment. The staff are friendly and enthusiastic and most importantly, the food options are incredible. From milk and eggs, to onions, peppers and kale and of course, peaches, apples and more! Whatever is in season, you can usually find it at Paynter's Fruit Market. Bring the whole family for lunch and dessert as this cute shop has a wood fire pizza truck on location as well as an ice cream section. You're welcome!
Pioneer Country Market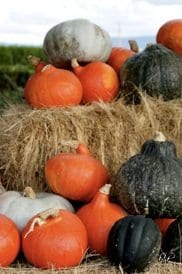 Associated with Sperling Vineyards, Pioneer Country Market is an inviting addition to an already fabulous local experience. Stop in for peaches (when in season) along with fresh baked goods (make sure to try the pies!), gourmet take-out lunches, hearty soups, pickles, preserves and more! Don't forget to stop into Sperling Vineyards for a wine tasting!
Hillcrest Farm Market
For farm fresh fruits & veggies, Hillcrest Farm market will most definitely not let you down. This fall, come try their delicious apples. And with apples comes freshly pressed apple juice made right there on location with absolutely no preservatives. Also on-site: a delicious, can't be missed bakery along with jellies, jams and preserves! For an amazing, locally grown, farm experience in Central Okanagan, you have to check out Hillcrest Farm Market!
Graziano Orchards
When taking your autumn wine tour on the Fab 5 trail in South East Kelowna, make sure to make a pit-stop at one of the Okanagan's most beloved orchards: Graziano Orchards! They have 27 acres of fruit trees to provide deliciously juicy plums, apricots, apples and more! Here, you'll find seasonal and affordable fruits that will leave you wanting more and more. While you're at the orchard, don't miss out on Graziano's famous apple pie to take home!
Function Junction Fruit Stand & Double Cross Cidery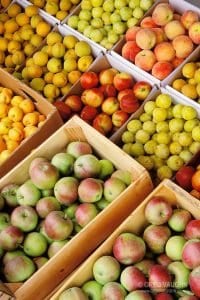 Function Junction is a unique fruit stand experience! They hand pick ripened fruits and vegetables from their very own orchard always ensuring the top most quality for their customers. Not only do they offer delicious fruits & veggies at their market, they also provide 100% pure apple juice, flowers, crafts and more in their shop! Something truly special about Function Junction is their newest addition: Double Cross Cidery! When you're shopping, make sure to stop in for some one of a kind hard apple cider and four fruit iced ciders! Not sure which one you want to purchase? Double Cross has a tasting room so you can decide before you buy!
When you choose to purchase real estate in Kelowna, you're also investing in the decadent lifestyle of being surrounded by orchards, markets and more. All of this freshness is one of the main reasons why living in the Okanagan Valley is so special, which you'll soon get to see for yourself. We love telling prospective buyers what our favorite parts of the city are and one of the best aspects is always having the freshest fruits & vegetables at our disposal. To find out more about why we love this city so much, get in touch. We'd be happy to explain why we believe that living in the valley beats out any other city by far!