Cover Image: Rattlesnake Island from above (Credit: Across The Lake Swim)
A tiny speck on the map, Rattlesnake Island is located close to the shore of Okanagan Lake, just east of Peachland.
Local legend has it that Ogopogo calls the island home, living in an underwater cave. Today, the island is part of the Okanagan Mountain Park.
Despite its small size, Rattlesnake Island has a very interesting history to tell and is a popular destination for locals and visitors.
The Creature and the Grass
Legend of the mysterious and dangerous water creature N'ha-a-itk (Snake of the Water) dates back as early as the 1700s, when the Okanagan First Nations offered ritual sacrifices to the Ogopogo in return for safe entry into the water.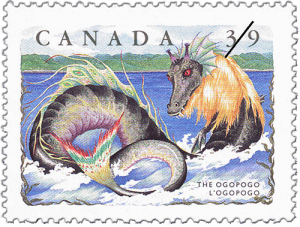 Throughout the 19th and 20th Centuries, numerous reports came in of Ogopogo sightings in the lake.
Locals, captivated by the creature, went from simply calling it The Island, to referring to it as Ogopogo Island.
In 1951, the island was purchased by Peter Spackman and he tried to rename it to Sunset Island. By then, the name Rattlesnake Island had been frequently used by locals, named so after the Rattlesnake Grass that covers the island. The name stayed, and in the 1950s Kelowna Chamber of Commerce confirmed the name.
A Tourist Attraction That Never Happened
Visitors to Rattlesnake Island will notice remains of a mini-golf course, among several other remnants of construction. An even though they island is owned by the government, five decades ago it was a unique piece of real estate with its own drama and mystery.
In the 1970s, Rattlesnake Island was a place of a visionary and controversial attempt to build an Arab-themed tourist attraction. The initial plan of Eddy Heymour was to build a replica of the Great Pyramid at Giza, a giant camel ice-cream parlour, a mini-golf course, pony rides, gardens, a swimming pool and restaurants. To add to the experience, a ferry from Peachland would bring guests to the island.
The plans were shut down by the BC Government. What followed was a story like not other of law suits, hostages taken, and the construction of the Peachland Castle.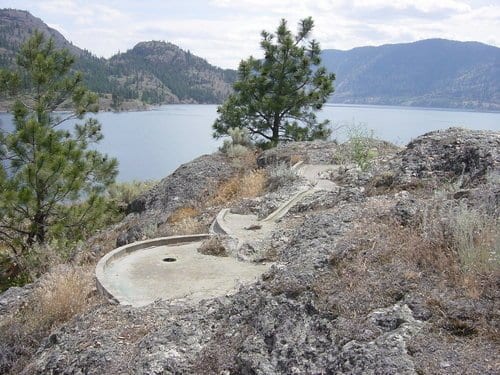 Beautiful Spot on the Lake
These days, both locals and visitors often stop at the island while boating, canoeing, or paddleboarding. Rattlesnake Island is a popular picnic spot, featuring a stunning view of the lake and surrounding mountains.
Local history buffs can hike the island in search of the tourist attraction remains. Those seeking a bit more adrenaline, can either take part in the annual Across the Lake Swim, or head to Squally Point near the island to enjoy cliff jumping.
You can live here too! Check out Kelowna Life to learn how.