On Saturday, October 20th, we saw voters head to the polls across British Columbia, including Kelowna.
In a mere 12 hours Kelowna citizens voted for a Mayor, 8 councillors, and 4 school trustees who will serve the Kelowna community for the next 4-year term. Many of the Council members are already well known to locals and have proven their dedication to serving our beautiful city.
For those of you who would like to welcome our 2018-2022 City Council, they will be officially sworn in during a public event on November 7th at 7 p.m. in the Mary Irwin Theatre at the Rotary Centre for the Arts.
Why Vote?
Even though politics can sometimes be a controversial and an uneasy topic to discuss, it has always been an important part of my family's life. We believe in informed citizens making informed decisions.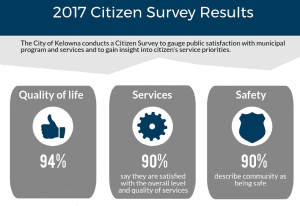 This is especially important when it comes to strengthening the purpose of democracy by doing everyone's duty as citizens: voting.
Based on a 2017 Citizen survey, most Kelowna residents are satisfied with City services and are happy with how their tax dollars are spent. This goes to show that being politically active and voting for public representatives makes a difference in individual and community lives. Being informed on local politicians, their vision, their work ethic and dedication helps when the time comes to vote in municipal election.  
The 2018 Municipal Election and Voters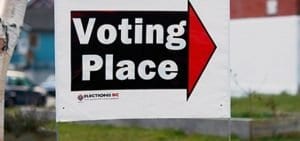 It was great to see that right here in Kelowna 8,049 electors had cast their vote in the advanced voting, and that by 8 p.m. on Saturday a total of 32,151 people had voted.
It might seem a bit disheartening at first to know that there are around 130,000 residents in Kelowna, with majority being the voting age, yet only 30.41% voted.
But I believe that this is not a sign of voter apathy.
There are many individuals, especially those aged 18 to 40, expressing their political views on social media, signing petitions, wearing badges or T-shirts that show their affiliations and political views, and taking part in marches on various social, economic and other issues.
The political interest is there, perhaps it's a matter of time until it grows into a feeling that electoral participation is also a part of the civic duty.
The Young Future Voters
This election, we saw many of the candidates interact with voters through social media as well as the more "old school" media like news and newspapers. Curiosity on whether youth watches news anymore brought me to Statistics Canada, where data from 2013 showed that 22% of youth aged 15 to 19 said they watched the news and were interested in current events. The percentage increased to 55% for those aged 35 to 44, and 87% among those aged 75 and over. 
Let's hope these numbers of informed citizens has remained the same or perhaps grown a bit by 2018, I wasn't able to find any recent stats.
Youth show engagement differently, mostly through social media campaigns and forums, which, I hope, would eventually turn into more politically active individuals and future voters.
Education is another important factor to having an informed, curious and politically active society. According to Statistics Canada, a higher level of education is associated with increased participation in various types of political activities.
With two major campuses in town, UBCO and Okanagan College, both educating thousands of individuals on social and political issues, we might see more people vote in the next 2022 elections.
Why I Care
Voting is crucial for democracy. The past four years Kelowna has been managed by trusted individuals who have proven they care for our city and communities, and many have been re-elected for another term with the City Council.
With the city growing, more people call it home and care for its growth, so perhaps the 2022 municipal election might see a higher number of individuals casting their votes.
Stay informed on latest news and current affairs, be curious on how you can play an active role in changing where and how you live, and perhaps I'll meet you at the polls during the next election.   
You can live here too. Check Kelowna Life to learn how.